How To Write a LinkedIn Newsletter? Benefits of LinkedIn Newsletter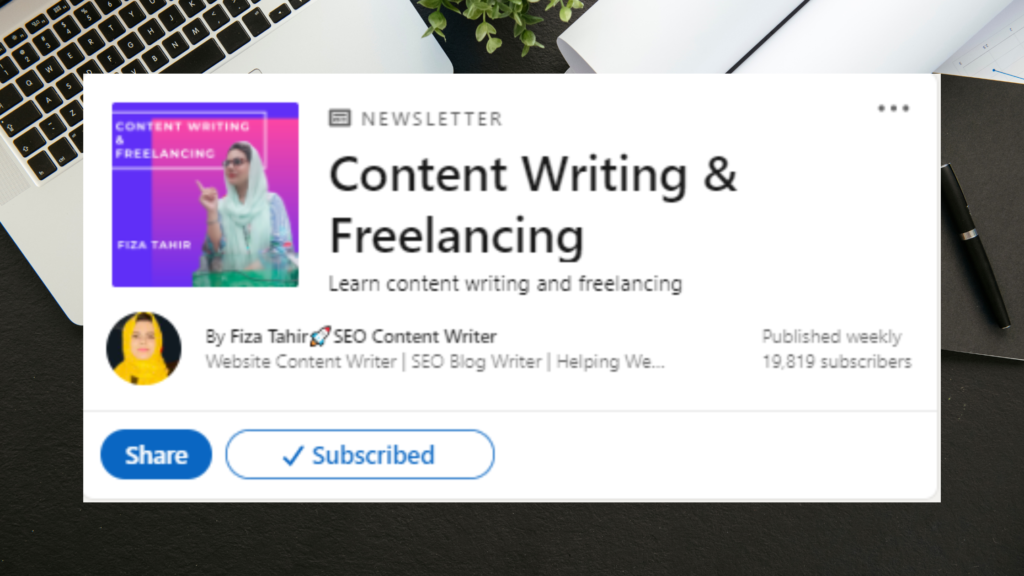 A Linkedin Newsletter is a great way to stay on top of news and updates in your industry. Through regularly published newsletters, you can receive topical articles, opinions, research reports, and other valuable information directly in your inbox. Not only do these newsletters help you keep track of significant events and trends that could potentially shape the future of your company or industry, but also helps build relationships with experts and fellow professionals who share similar interests. Additionally, LinkedIn Newsletters can be an incredibly useful tool for job seekers as they provide a curated selection of potential opportunities based on your skill set and experience which offers a great starting point for networking. But how to write a LinkedIn Newsletter? Let's dive in!
Relevant: Best strategies to optimize your LinkedIn Profile
What is a LinkedIn Newsletter?
Writing can be a lonely profession, so having an outlet to share your news with an audience of passionate readers is an invaluable asset. With a Linkedin newsletter, you have the opportunity to have your work read by thousands of people who are interested in hearing what you have to say. You can easily promote new books, and your services for example article and blog writing services, and directly connect with those readers in real time. Additionally, it provides a community for authors to get feedback from peers and industry professionals alike. A Linkedin newsletter allows authors to initiate meaningful dialogue with their desired readership and gain insight into how different segments of audiences are engaging with their content.
5 Benefits of Writing a Linkedin Newsletter
Increase Visibility
Writing a LinkedIn newsletter is an effective way to increase your visibility and reach new audiences with your content. By writing a newsletter, you can share your latest news, updates, and insights with the greater LinkedIn community. This will help boost your profile and build relationships with other professionals in the network.
Generate Leads
Writing a LinkedIn newsletter can be used as an effective tool for generating new leads. By creating interesting and informative content, you can encourage readers to become more interested in your business and products or services. You can also use the newsletter to promote upcoming events, showcase special offers, and share relevant industry news.
Stay Connected
A Linkedin newsletter is one of the best ways to stay connected with existing customers and followers. Even if they don't follow every post on your page or blog, they will still see content when it's featured in the newsletter. This helps you maintain a connection with them even if they haven't engaged with your content recently.
Increase Engagement
Writing a LinkedIn newsletter can help you increase engagement with your content. By featuring engaging topics and including visuals, you can ensure readers stay interested in the content and take action on it. This encourages them to comment, like, or share your posts, increasing the reach of your content.
Build Your Reputation
Writing a LinkedIn newsletter is also an effective way to improve your reputation as a thought leader in your industry. By sharing valuable information with readers through the newsletter, you can establish yourself as an expert in the field and encourage others to follow suit. In addition, by taking advantage of all the features available for newsletters, such as formatting options and social media integration, you can make sure that each reader has an enjoyable experience consuming your content. This will help to build your brand and create a positive impression of your business.
By taking advantage of these benefits, you can ensure that a LinkedIn newsletter is one of the most effective tools for improving your visibility, generating leads, staying connected with customers, increasing engagement, and building your reputation in the industry. With these five reasons to consider writing a LinkedIn newsletter for your business, you'll be able to maximize its potential and reach more people than ever before.  Additionally, regular newsletters can also be an important part of any overall digital marketing strategy to ensure success!
How to Write a Linkedin Newsletter?
Creating a Linkedin newsletter is a great way to stay in touch with your contacts and keep them updated on the latest news. Here are some tips for creating an effective newsletter template:
1. Start with a catchy headline that draws readers in.
2. Include timely, relevant content such as industry news, event updates, or things going on at your company.
3. Keep it brief and to the point so as not to overwhelm readers.
4. Add visuals such as images or videos – these can help draw attention and make your message more interesting and engaging.
5. Use an easy-to-understand layout so readers can quickly scan through and find the information they're looking for.
6. Incorporate social media and links where appropriate, so readers can quickly go to other sources and explore additional information.
7. Provide a call to action such as encouraging readers to sign up for something or follow your profile on Linkedin – this encourages engagement with your content and enhances the effectiveness of your newsletter.
8. End with a summary of what was covered in the newsletter, as well as any contact details or other important links.
Creating an effective Linkedin newsletter template takes some time and effort but it can be an incredibly powerful tool for staying connected with contacts and keeping them informed about the latest news in your industry or at your company. Follow the tips above, and you'll soon have a template that works for your unique audience.
Design Considerations
When designing a newsletter for LinkedIn, there are several design considerations to keep in mind.
First and foremost is branding. Your newsletter should reflect your company's brand identity, by using colors, fonts, and logos that align with its style guidelines. This will help create a consistent look and feel across all of your marketing materials. It's also important to ensure that the layout of the newsletter is easy to navigate, so users don't have to spend time searching for the information they need.
To stand out amongst other emails in users' inboxes, you may want to consider incorporating interesting imagery into your newsletters. Images can be used to add visual interest and break up text blocks while communicating information quickly and effectively.
Finally, make sure you include calls-to-action (CTAs) in your newsletter. This could be a button linking to a website page or blog post, or even just an invitation to contact your company for more information. CTAs are key for driving engagement and conversions with your target audience.
By keeping these design considerations in mind when creating newsletters for LinkedIn, you can ensure that your content is engaging, informative, and visually appealing – helping your company stand out from the crowd!
Tracking and Analyzing Performance Metrics
Once a LinkedIn newsletter is created and launched, tracking performance metrics can help assess the success of your campaigns.
Analyzing these metrics will give you insight into how well the newsletter was received and which areas need improvement for future campaigns. When gathering data, focus on key indicators such as subscribers, likes, shares, and comments.
In addition to the obvious metrics, use more advanced data tracking to measure the success of your campaigns. Take into account the number of impressions and clicks you received, as well as engagement time spent on each article within the newsletter.
Analyzing this data will give you an idea of how successful your campaign was in terms of actual user engagement. You can also look at how people found out about your newsletter and track changes over time to see which methods are most effective for gaining subscribers.
Finally, make sure to analyze the demographics of those who opened and interacted with your newsletter. Understanding who is engaging with your content allows you to tailor future newsletters specifically toward their interests and needs, increasing the chances of capturing their attention again in the future.
By tracking and analyzing performance metrics, you can get a better understanding of how successful your LinkedIn newsletter campaigns were. This information can then help to inform future campaigns, ensuring that each one is more successful than the last.
Bottom Line
In conclusion, writing a LinkedIn newsletter can be an effective way to increase engagement with your audience and drive more traffic to your website. By creating informative and engaging content, you can successfully create a newsletter that resonates with your readers. Additionally, by using simple marketing tactics such as A/B testing or segmenting your list, you can further optimize the effectiveness of your newsletters. With a little bit of effort, you can create newsletters that make an impact on your business.
By following the tips outlined in this blog post, you should have no trouble getting started on creating a successful LinkedIn newsletter for your business. Give it a try – you might just find that it's one of the best investments you've ever made for your business. Good luck and happy writing!